And Peter [Part 2]
Are you ready for some good news?
Jesus wanted to meet Peter in Galilee; He wants to meet you too.
Today's Text: "And entering the tomb, they saw a young man sitting on the right side, dressed in a white robe, and they were alarmed. And he said to them, "Do not be alarmed. You seek Jesus of Nazareth, who was crucified. He has risen; he is not here. See the place where they laid him. But go, tell his disciples and Peter that he is going before you to Galilee. There you will see him, just as he told you."" (Mark 16:5–7, ESV)
When the terrified women encountered the angel at the empty tomb, the messenger instructed the women to tell the disciples to go to Galilee to meet Jesus. But, oddly, wonderfully, the angel mentioned one disciple by name:
                                             "But go, tell his disciples and Peter…."
Jesus must have risen from the grave and had a little chat with the angel in glorious raiment. "Be sure and let all the disciples know that I'll go before them to Galilee and I'll see them there. Oh, and be sure to tell Peter I'm looking forward to seeing him too."
The one who failed Jesus most poignantly and who bore the shame of faithlessness most painfully – Peter – was invited by name to the Easter party.
When you have failed God, failed others or failed yourself, God wants to be with you. Jesus didn't say, "Send word to Peter and ask him if he's learned his lesson." The Lord didn't want to know if Peter had demonstrated a more faithful heart since the day of his threefold denial. He just wanted Peter to come to Galilee.
So, on Easter day, Mary Magdalene, Mary the mother of James, and Salome came running to the disciples with the unbelievable news. "The Lord has risen, just like He said! And He is going before us to Galilee – we'll see Him there. He wants you all there. And, Peter, He mentioned you by name. He wanted to be sure you got the message personally – He is looking forward to seeing you."
I imagine the weathered fisherman's throat tightened with emotion as moisture came to his eyes. He was loved. Still loved. Still wanted. He had done his worst. He had wilted under the heat of persecution. He had denied Jesus (some scholars suggest he actually cursed the name of Jesus). And Peter was still loved.
You are still loved. No matter what. No matter how bad. No matter how often. You are still loved. If Jesus wanted to be with the man who wickedly denied him three times, you can be sure He wants to be with you. So, run to Galilee! Run to the heart of the Savior! He wants you. He welcomes you. He loves you no matter what. And that's the Gospel!
---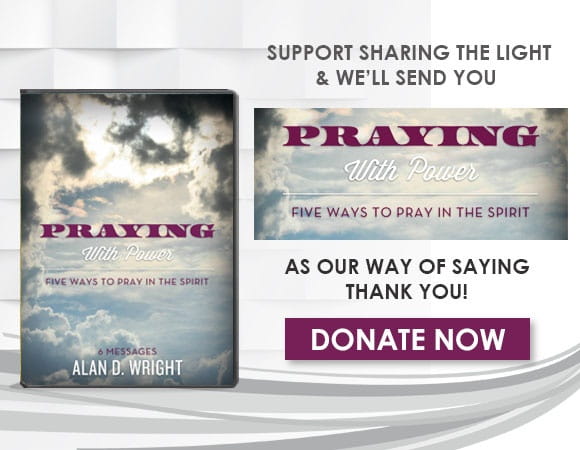 For more information please visit SharingtheLight.org.
Listen to the latest broadcast on OnePlace.com.