From Resistant to Receptive [Part 2]
Are you ready for some good news?
Jesus saves by serving. As Peter had to let Jesus wash his feet – you must let Jesus wash your whole being. The King of all is the Servant of anyone who will receive Him.
Today's Text: "Peter said to him, "You shall never wash my feet." Jesus answered him, "If I do not wash you, you have no share with me." Simon Peter said to him, "Lord, not my feet only but also my hands and my head!"" (John 13:8–9, ESV)
Foot washing was considered so menial that it was reserved for the lowliest servant in the house. If there were slaves in the home, the lowest ranking slave did the foot washing. Jewish slaves were not even allowed to wash feet.
So Peter was appalled. No way was the fisherman going to allow the Lord to wash his grimy feet.
But Jesus was insistent, "If I don't wash you, you have no share with me." It's the language of inheritance. It's the word the prodigal used when demanding his "share" of the father's inheritance in Luke 15.
We have no spiritual inheritance with Christ if Christ doesn't wash us. Christ, of course, was prefiguring a greater act of servanthood. Jesus was on the way to the cross. He's the King, but He came to serve in the most ultimate way – His own death.
We resist the notion of Jesus serving us because we know that we don't deserve it. That's the scandal of grace. The flesh rebels against grace because it's so unfair. Flesh wants life to be fair. It's why you get mad if someone breaks in line; life should be fair. But, if we are to be truly saved, life must be unfair. We must receive what we don't deserve.
Jesus' foot washing was an invitation into the reality of the New Covenant. The move from Old Covenant to New Covenant is more than a move from law to grace. It means building your whole hope not on what you do for God but on what God has done for you.
The fact that Jesus washed Peter's feet didn't mean that Peter would never make sacrifices for the cause of the Gospel. He would, in the end, give up everything for Christ. Instead, Jesus was demonstrating that discipleship is not empowered by vowing servanthood to God. Discipleship is fueled by a radical reception of God's servanthood toward us in Christ. He makes us clean and we become co-heirs with Him equipped to accomplish the mission. And that's the Gospel!
---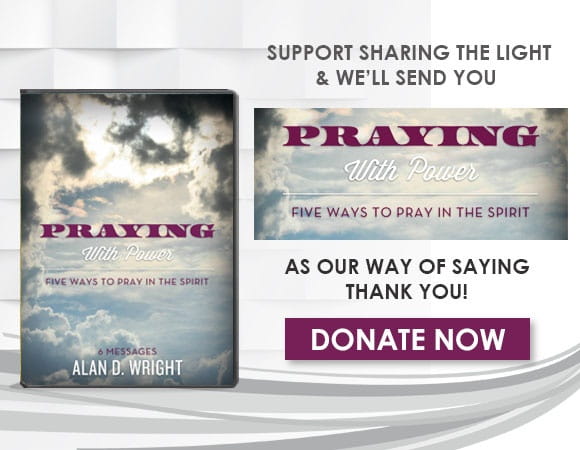 For more information please visit SharingtheLight.org.
Listen to the latest broadcast on OnePlace.com.