From Distraction to Hope [Part 1]
Are you ready for some good news?
Though Jesus came humbly as a babe, was subjected to all the frailties of humanity and became servant all, He is, always was, and forever will be the glorious King of the entire cosmos dwelling in blazing hot purity and transcendent supremacy.
Today's Text: "And he was transfigured before them, and his face shone like the sun, and his clothes became white as light. And behold, there appeared to them Moses and Elijah, talking with him. And Peter said to Jesus, "Lord, it is good that we are here. If you wish, I will make three tents here, one for you and one for Moses and one for Elijah."" (Matthew 17:2–4, ESV)
In today's broadcast, we consider the transfiguration of Jesus. In Greek, the word is "metamorphosis". The transfiguration follows Jesus' rebuke of Peter when the disciple tried to keep Jesus from His destiny of suffering. Jesus is headed toward His death on the cross. But, on the way, He allows a few of his closest disciples to see His glory. Atop the mountain, Jesus' face shone like the fire of the sun and His raiment became glorious light. The presence of Moses and Elijah added to the glory of the moment.
Jesus is gracious and kind. He blessed the little children. He forgave sinners. He fed the poor. When falsely accused, He was silent as a Lamb. He allowed Himself to be beaten, mocked and crucified. But He was not weak. He humbled Himself, but He was not defeated. He died, but no one took His life.
The transfiguration prefigured His resurrected body. All glory. All light. All power.
The disciples were terrified and didn't know what to do. Ignorant, but well intentioned Peter offered to build three tents – one for Jesus, one for Moses, one for Elijah. How quickly we gravitate to religious practices in the face of Heavenly glory! I don't scoff at Peter's fleshly response. There have been moments in public worship when the glory of God became so profound that I didn't know what to do. But everything within me felt I needed to do something. Say a prayer. Make a declaration. Move on to the next item in the order of worship. Something!
Jesus had no need for a little tent. But the disciples needed a vision of His glory. Jesus wanted Peter, James and John to remember.  When they strike me and pierce me and hang me, remember the transfiguration. Remember my glory.
When Jesus appears to you in glory, make no religious structure to contain Him or define Him. Take Him as He is, the king of glory. He is our Great High Priest completely able to identify with our humanity because He is human. But He also completely identified with the Father, because He is God. And that's the Gospel!
---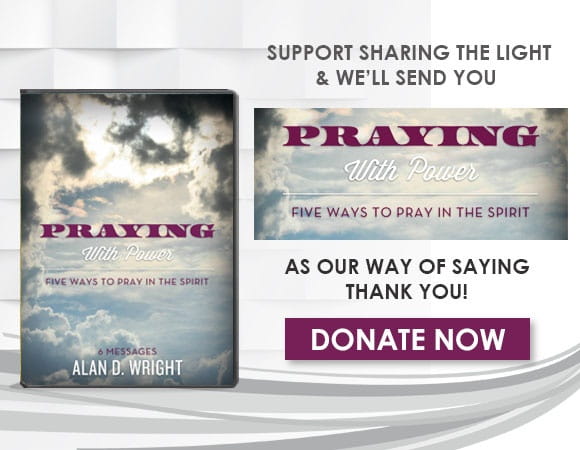 For more information please visit SharingtheLight.org.
Listen to the latest broadcast on OnePlace.com.