Daniel and the Dynamics of Church and Culture [Part 2]
Are you ready for some good news?
If you're wondering how to respond to the radically secularized culture, there is not cookie cutter answer. But there is an answer.
Today's text: "Then the king commanded … to bring some of the people of Israel, both of the royal family and of the nobility, youths without blemish, of good appearance and skillful in all wisdom, endowed with knowledge, understanding learning, and competent to stand in the king's palace, and to teach them the literature and language of the Chaldeans. … They were to be educated for three years, and at the end of that time they were to stand before the king." (Daniel 1:3–5, ESV)
The Babylonian king strategically acquired some of the best and brightest Hebrews from Jerusalem in an attempt to indoctrinate them into Babylonian culture. Nebuchadnezzar wanted to use these highly intelligent Jewish youths to advance his own purposes.
Daniel was one of the king's recruits. But Nebuchadnezzar wouldn't be able to use Daniel for Nebuchadnezzar's purposes. Instead, God would use Daniel for God's purposes. The story of Daniel demonstrates that the power and purposes of God prevail even when it looks like a pagan ruler is leading the way.
As we approach the unpopular presidential election, it's imperative to remember the story of Daniel. Yes, America has become unchurched. Yes, America's morality has plummeted. Yes, America is dived. But NO, we are not doomed by the circumstances of our increasingly pagan culture.
God is on the throne. And He is sovereign and wise and redemptive in every way.
Our radio broadcasts come from a studio discussion about Daniel, Tim Keller's insightful book Center Church, and the dynamics of Christ and culture. To help you follow along, my free booklet on the subject is available on our website.
When I studied and preached on the book of Daniel I thought I would discover a simple answer for how believers should feel and act in a pagan culture. But what I discovered was not simple or straightforward. There were times that Daniel was in the culture, favored by God for influence. There were times that he separated himself from the culture and made a stand. There were times in which he impacted the culture and times he was the instrument of God to defy it.
I hope you'll tune in for the discussion on the radio or via our app. Though our response to the changing culture isn't simple, there is a simple answer to all the world's problems. His name is Jesus. And that's the Gospel!
---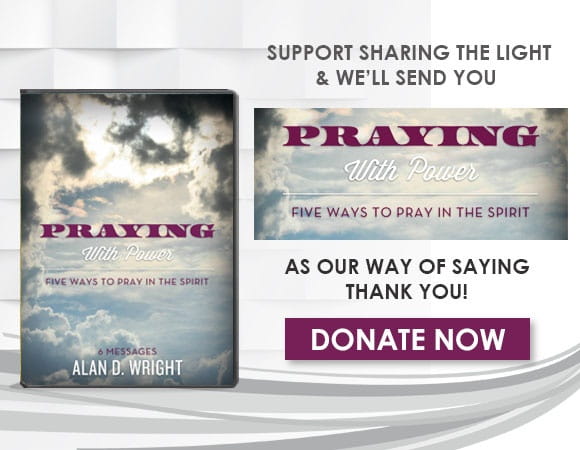 For more information please visit SharingtheLight.org.
Listen to the latest broadcast on OnePlace.com.