The Ephraim and Manasseh Blessing [Part 2]
Are you ready for some good news?
You've received the blessing that only Jesus, the firstborn son, should have received. It makes sense when you look back on the bizarre story of Ephraim and Manasseh.
Today's Text: "And Israel stretched out his right hand and laid it on the head of Ephraim, who was the younger, and his left hand on the head of Manasseh, crossing his hands (for Manasseh was the firstborn)." (Genesis 48:14, ESV)
When the Bible speaks of Jesus blessing the little children, in all likelihood His words included the timeless blessing given to the Hebrew people: "May you be as Ephraim and Manasseh." Let me explain.
Jacob was the second born son of Isaac. As a second born, he never felt like he measured up. The firstborn son would be the one to receive a double portion of the inheritance. The firstborn would receive a special blessing from the father. Feeling unblessed, Jacob spent his life striving, conniving and manipulating. His deceptive desperation reached its pinnacle when Jacob literally pretended to be his brother Esau and Jacob tricked his old blind father into releasing the blessing and inheritance to him, the younger. Esau was distraught and besieged with murderous thoughts toward Jacob who fled and lived on the run.
Jacob had ten sons before his beloved wife Rachel gave birth to Joseph. Demonstrating the poverty of his parenting skills, Jacob showed unabashed favoritism toward Joseph. The jealous brothers sold Joseph into slavery and led their father to believe that a wild animal had devoured Joseph. Years later, in a reunion spilling over with grateful emotion, Jacob discovered that Joseph was alive and ruling in Egypt.
Later, when Joseph learned that his father Jacob (also called Israel) was nearing death, Joseph brought his two sons Manasseh and Ephraim to be blessed by their grandfather. Bringing the firstborn Manasseh to Jacob's right hand (the sign of stronger blessing) and Ephraim, the second born, to Jacob's weaker left hand, Joseph was shocked by Jacob's actions. The old patriarch removed his right hand from Manasseh's head and placed it on Ephraim's head. Crossing his arms, he placed his left hand on the firstborn Manasseh's head. Joseph protested and tried to correct the hand positioning. But Jacob refused and declared essentially, "I know what I'm doing." (Gen. 48:18)
Jacob had been blessed like a firstborn because he stole it. But now, looking backward, he saw how the mercy of God had always been upon him though he never deserved such blessing. So, with resolute purpose, Jacob blessed the undeserving second born demonstrating that he finally understood grace.
It all points to the beauty and power of the cross. Jesus is the deserving firstborn. But the Father, on purpose, removed His right hand from Jesus and crossed His arms so that His right hand of blessing would rest upon the second born. That's you and me and everyone in Christ. That's why you've become like Ephraim and Manasseh – you were blessed as if you were Jesus while He was treated as if he were you. That's what's so amazing about grace. And that's the Gospel!
---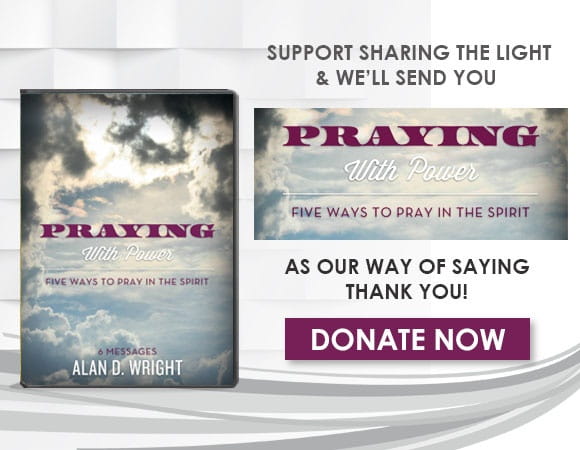 For more information please visit SharingtheLight.org.
Listen to the latest broadcast on OnePlace.com.