Daniel and the Dynamics of Church and Culture [Part 4]
Are you ready for some good news?
If you're a Christian in America, you're a missionary in this land.
Today's text: "When Daniel knew that the document had been signed, he went to his house where he had windows in his upper chamber open toward Jerusalem. He got down on his knees three times a day and prayed and gave thanks before his God, as he had done previously." - (Daniel 6:10, ESV)
Some years ago, author Eric Metaxas was addressing our congregation and mentioned a side point that I'll never forget. I paraphrase, but Eric said something like this: "It's odd how we will go to such great lengths to send people to the mission field but how we are so slow to see our neighbors as a mission field. In order to reach a people group in another nation, we'll learn a foreign language, study their culture, and pray for favor that we'll gain an audience with them for the Gospel. But, here, we just feel bitter that our next door neighbor sleeps in on Sunday morning and that our leaders don't act like Christians."
Pause there please.
Why would we be so patient on the mission field in a foreign land and so impatient with unbelievers at home? Why would we go to such great lengths to understand the culture abroad and expect those at home to accommodate to our culture?
Surely, Christians in America are grieving the rapid decline in morality and the surprising increase of people who don't adhere to any form of the Christian faith. I'm grieving it.
A few years ago, while pondering all this and studying the book of Daniel I distinctly sensed the Lord say: "Alan, the sooner that you see yourself as a missionary in your own land, the more at peace you will be." I believe the Lord was showing me how to navigate the waters of unchurched America. I'm not saying that I'm Daniel and that America is Babylon because I'm not in exile. That said, this culture around me looks nothing like world I grew up in. Sometimes it feels as different as Babylon.
This unpopular election and the growing grief of Christians who mourn the absence of godly governing leaders can discourage the church … or can become the greatest opportunity of the church. We have new clarity between the light and the darkness. There are very few "social" Christians left. America needs Christ. Our neighbors need Christ. And, if God could use Daniel in Babylon, God can use us in America. And that's the Gospel!
---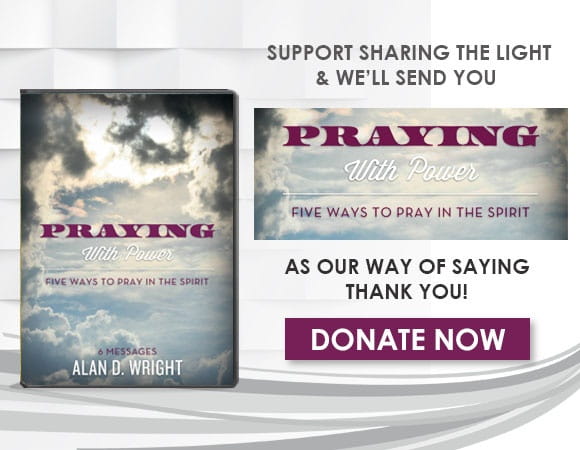 For more information please visit SharingtheLight.org.
Listen to the latest broadcast on OnePlace.com.