The Death of Uzzah and the Dance of David [Part 2]
Are you ready for some good news?
In Christ, you can come into the very presence of God without fear.
Texts: "And the anger of the Lord was kindled against Uzzah, and God struck him down there because of his error, and he died there beside the ark of God. And David was angry because the Lord had broken out against Uzzah. And that place is called Perez-uzzah to this day." - (2 Samuel 6:7–8, ESV)
"Let us then with confidence draw near to the throne of grace, that we may receive mercyand find grace to help in time of need." - Hebrews 4:16 (ESV)
Today's broadcast continues exploring the disturbing story of Uzzah and the Ark of the Covenant. The Ark of the Covenant was a wooden box overlaid with gold. On the golden lid sat two golden angels facing each other. The Ark dwelt in the Holy of Holies behind a thick veil in the tabernacle. Once a year, the high priest was allowed to meet face to face with God and sprinkle blood on the cover of the ark to temporarily atone for the sin of the people. The ark was not a good luck relic. It was the symbol of the mercy of God.
When Uzzah reached out to steady the Ark of the Covenant in 2 Samuel 6, he was touching the symbol of the presence of God.  The Lord's instructions had been clear: if anyone touches the ark, he shall die. The Lord couldn't overlook Uzzah's offense because the Lord never lies. Uzzah received a severe penalty because the wages of sin is death.
As with all scripture, the story points us to the need for a Savior.
When we live by the law we, like Uzzah, try to help God. God doesn't need to be saved. The beauty of the gospel is that God did something to save us!
Jesus, the Son of David, our great High Priest, entered the Holy of Holies by His own blood on our behalf so that our sin would be removed forever. When Hebrews speaks of coming into the Lord's presence, the writer references the throne of grace – the image of the mercy seat on the ark. Jesus offered one sacrifice for all time, so that everyone in Christ could come boldly, freely to the mercy seat with no fear.
Uzzah couldn't touch the symbol of God's presence without dying. But, in Christ, you can touch God Himself and live. And that's the Gospel!
---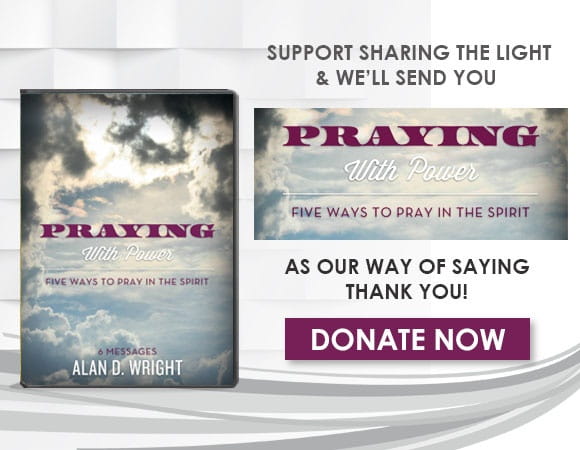 For more information please visit SharingtheLight.org.
Listen to the latest broadcast on OnePlace.com.