The Difference in Being in God's House and Being God's House [Part 2]
Are you ready for some good news?
Because you are the house of God, it means that you are with God and He is with you always.
Text: ". And I will give you rest from all your enemies. Moreover, the Lord declares to you that the Lord will make you a house." (2 Samuel 7:11, ESV)
As we continue in our new series on the life of David, we pause again today at the mysterious, remarkable promise from God to David. David wanted to build a house for God but God rejected David's offer and, instead, promised make David a house.
You, as Peter terms it, have been made a "living stone" in the house of God. You have been eternally united with Christ and, as such, you have been forever connected to Christ's body. It means that you are the house of God. Therefore, God is with you all the time.
Being with God changes everything.
My dear friend Dudley Hall was invited by famed bluegrass musician Allison Kraus to join her as she sang at the National Prayer Breakfast one year. He was invited to sit next to Allison at the head table with the President and the Vice-President of the United States. Allison would sing and Dudley would sit there.
As you could imagine, the security at such an event was tight. As they approached the banquet hall, the officials recognized Allison and told her they were glad to see her. She was invited to come right in. They then turned to Dudley, and he just said, "I'm with her." He was welcomed in. When it came time to be seated, Dudley again said, "I'm with Allison." I love Dudley Hall, but I can verify that he would not be a singer of choice for a Presidential event. Allison Kraus, though, has one of the loveliest voices ever heard. Dudley didn't need any credential of his own; just arriving with Allison gave him the same access she had.
You have become the body of Christ and, because of that, you can be sure that God is with you. Christ's merit has brought you into the presence of God. If any power of hell should ever question you, asking "Why do you think you should be blessed?" all you have to say is, "I'm with Jesus because I am the house of God." And that's the Gospel!
---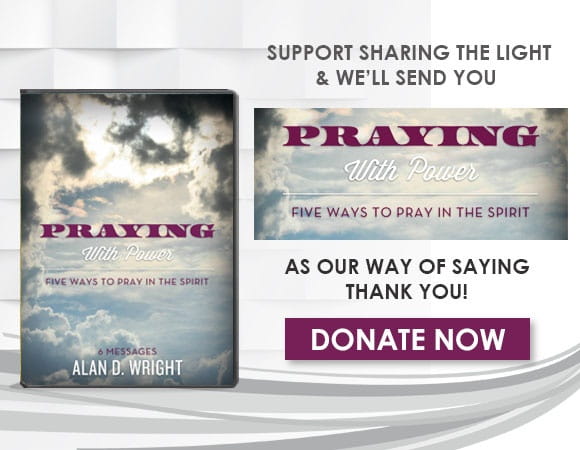 For more information please visit SharingtheLight.org.
Listen to the latest broadcast on OnePlace.com.