You're Called in Hope [Part 2]
Are you ready for some good news?
You're called – and that changes everything.
Today's text: "… having the eyes of your hearts enlightened, that you may know what is the hope to which he has called you, what are the riches of his glorious inheritance in the saints, and what is the immeasurable greatness of his power toward us who believe, according to the working of his great might…." (Ephesians 1:18–19, ESV)
 Hope and calling are inextricably related.
Vocation (from the root for "voice") means calling. The concept of "calling" is rooted in the promise of the scripture that God's people recognize the voice of God in the same way that sheep recognize the shepherd's voice (John 15).  It means that life direction is not primarily about figuring out the best path; it's about hearing God's voice, alluring you toward His plan.
The Biblical notion of calling runs completely contrary to the spirit of the age. Calling means that God's direction does not germinate within, but is planted from outside. Despite culture's insistence that the answer to life is found by looking deep inside your soul, the Biblical picture of abundant life is precisely the opposite. To be called, by definition, means to hear a voice that transcends your own.
This is exquisitely wonderful news because if your life is built upon God's call then you can be assured that His call is powerful and effective. God's call is irresistible in the sense that God's infinite love and omniscient virtue so deeply beckon the soul that no power can stand against it.
Could Saul of Tarsus, blinded by the glory of God, confronted directly by Jesus, really say, "No thanks God, I think I'll continue in the deception of my Pharisaic pride"? Hypothetically, yes; realistically, no!
When Jesus said "Lazarus come forth" did the dead man have a choice? When dead people who know they are dead are offered life they don't turn it down! The whole notion of being called in hope is glorious news because it means that the energy and power to fulfill your purpose in life does not rest upon your decision to follow Jesus, but on Jesus' call for you to follow Him. You're called in hope. And that's the gospel!
---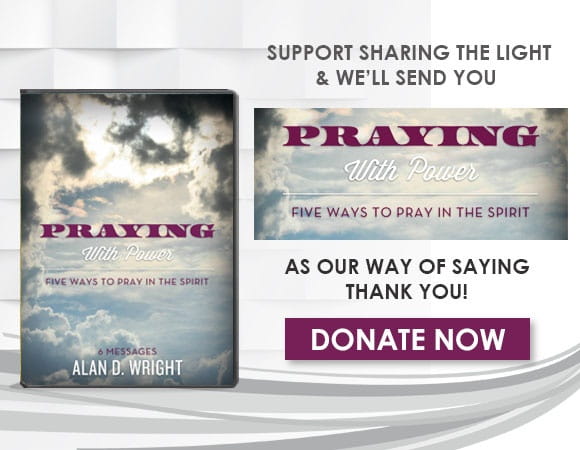 For more information please visit SharingtheLight.org.
Listen to the latest broadcast on OnePlace.com.