You Are Called in Hope [Part 1]
Are you ready for some good news?
You can know the hope to which you're called! God wants you to live in hope. He gives you hope!
Today's text:  "… that the God of our Lord Jesus Christ, the Father of glory, may give you the Spirit of wisdom and of revelation in the knowledge of him, having the eyes of your hearts enlightened, that you may know what is the hope to which he has called you, what are the riches of his glorious inheritance in the saints, and what is the immeasurable greatness of his power toward us who believe…." (Ephesians 1:17–19, ESV)
Pay attention to Paul's prayers. After all, this is a man who was one of the keenest intellects of his day, a Pharisee of Pharisees who was blinded by a light of glory, spoken to in person by Jesus, appointed as the chief apostle and author of most of the New Testament. He was shipwrecked, beaten, bitten by snakes, repeatedly imprisoned, and yet maintained joy unspeakable. I'd really like to know what his prayer is for me!
First on his heart, Paul prays that you would have certainty about the hope before you. That you may KNOW – not wonder, guess or wish that you knew. But KNOW the hope to which you are called.
There are two general forms of motivation you'll hear from preachers. Some say, "You can't know for absolute certain that you are called and saved because it depends on how holy you live, how much good you do and how committed you are to God. Don't be lured into laziness so that you can be sure that you are saved." The other perspective (the true gospel) announces just the opposite: "Once you've accepted Christ, know for sure that you belong to Him forever and that nothing can ever separate you from Christ. The certainty of your eternal future creates hope within you that will motivate you to live passionately for Christ." Hope isn't wishful thinking; it is the inward certainty that something good is coming. When you hope, you live. When you lose hope, you wonder: why live?
I'm praying with Paul that you'll know the hope to which you are called. You can know for sure! And that's the gospel.
---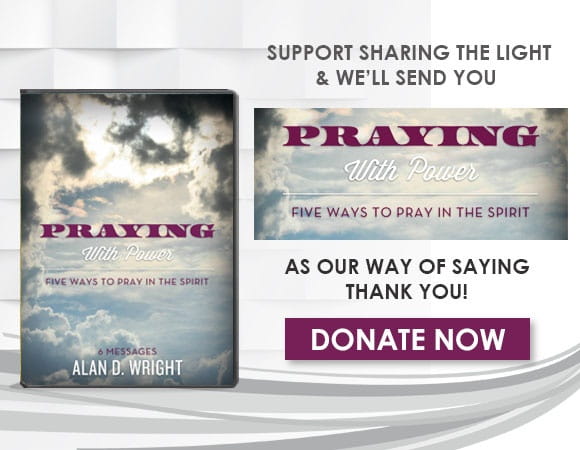 For more information please visit SharingtheLight.org.
Listen to the latest broadcast on OnePlace.com.