You're a Child of Light [Part 2]
Are you ready for some good news?
Christ's cross put an end to the wrath of God toward any child of God.
Today's Text: "Let no one deceive you with empty words, for because of these things the wrath of God comes upon the sons of disobedience. Therefore do not become partners with them; for at one time you were darkness, but now you are light in the Lord. Walk as children of light" (Ephesians 5:6–8, ESV)
Previously, I highlighted the crucial importance of reading the Bible not as a collection of individual instructions or announcements but as a meta-narrative, a big story of redemption. In the big story of God's Word, we see that God is not a wrathful deity. God is love. The occasion of God's wrath is the result of His love. Like a husband whose wife has been unfaithful, the Lord's love compels him to care about the faithfulness of His bride.
Have you ever wondered why God is described as a "jealous" God? There is a kind of jealousy that is prompted by insecurity. If I'm discontent with my small house and see your big, fancy house it might arouse jealousy. But God has everything – He's not discontent. He is secure in His own eternal bliss. That said, there is a kind of jealousy that is holy for it proves there is love. In the same way that I'm jealous for my children's well-being and mad if the culture tries to lure them into falsehood, God is jealous for you. God loves you far too much to stand idly by when darkness tries to consume you. He wants your well-being and the fullness of your love.
God needed a covenant partner who would never commit spiritual adultery. Because there was no such human to be found, God sent His only begotten Son to keep the covenant perfectly. On the cross, the Father put the sins of the adulterous ones on the perfect Son as if He had committed all the unfaithfulness. In an unthinkable exchange, God's wrath was poured out on the perfect Christ, and the Father then regarded any who would believe in Jesus as if he or she had been the faithful covenant partner.
In Christ, you are faithful. God counts you as righteous. There is no wrath left for anyone in Christ. And that's the gospel!
---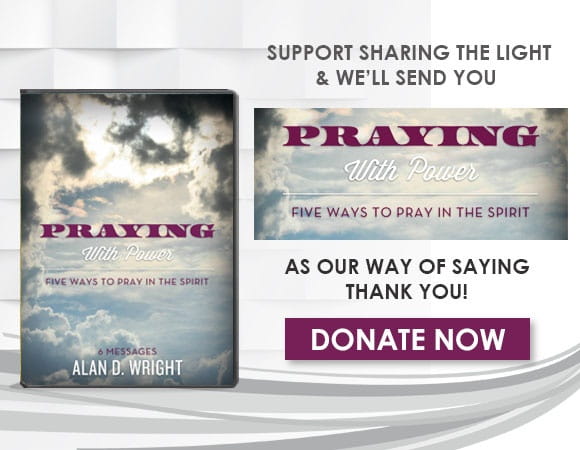 For more information please visit SharingtheLight.org.
Listen to the latest broadcast on OnePlace.com.