You Are an Heir [Part 1]
Are you ready for some good news?
You're an heir of the Father's estate – and your Father is fabulously rich!
Today's Text: "This mystery is that the Gentiles are fellow heirs, members of the same body, and partakers of the promise in Christ Jesus through the gospel." (Ephesians 3:6, ESV)
Today we continue our study of Ephesians in chapter three where we learn one of the most remarkable truths of our Christian identity. We are no longer orphans, but heirs. We have inherited what should have only belonged to Christ.
It means that you belong forever to God and that the good gifts of God are yours in Christ.
My cousin Jan adopted a little girl from Russian named Sasha years ago. She's a beautiful high school senior now, but when she first arrived she was a wide-eyed four-year-old who spoke no English.
When she first visited our house to meet our then three-year-old, Abigail, we greeted Sasha with presents and smiles. It was thrilling and heartbreaking to see her open the packages because Sasha wasn't able to comprehend that the dolls and toys were her things. At the orphanage, all toys were held in common. She grabbed at the toys and wouldn't let Abby show her how to play with them.
Soon, Sasha and Abby romped around the backyard. What fun to see a little girl experience her first sandbox and swing set! But when it came time to leave, Sasha wouldn't. We couldn't convince her to get in the car. My cousin Jan explained it simply, "This is the best time that she's ever had and I don't have any way to communicate to her that this is the way life is going to be from now on."
When you accept Christ, you are no longer an orphan. You're an heir. Everything is new. You have a Father with unlimited resources, but it takes spiritual ears to hear the grace of God. God found you in a bleak orphanage and brought you into His family. Think on it. Believe it. You don't have to grab at life in fear. You don't have to worry about tomorrow. You're an heir. And that's the gospel!
---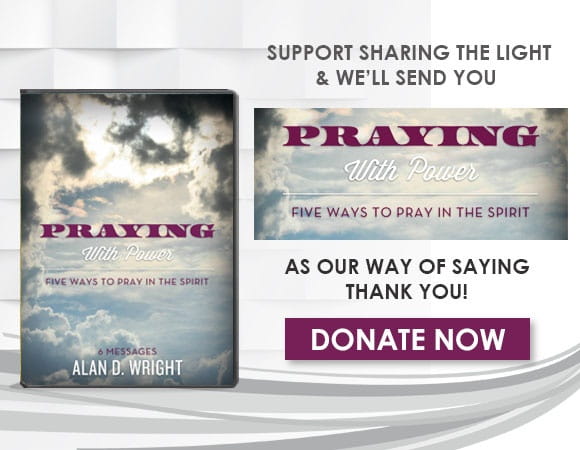 For more information please visit SharingtheLight.org.
Listen to the latest broadcast on OnePlace.com.