Boundless Riches [Part 2]
Are you ready for some good news?
Your spiritual riches in Christ are utterly boundless.
Today's Text: "8 Although I am less than the least of all the Lord's people, this grace was given me: to preach to the Gentiles the boundless riches of Christ, 9 and to make plain to everyone the administration of this mystery, which for ages past was kept hidden in God, who created all things. 10 His intent was that now, through the church, the manifold wisdom of God should be made known to the rulers and authorities in the heavenly realms, 11 according to his eternal purpose that he accomplished in Christ Jesus our Lord…." (Ephesians 3:8–11, NIV)
In daily commerce, we operate according to the principle of scarcity. Everything has its limits, we assume. If solid gold rocks were as common as granite, we'd need a different base for our currency. There is limited gold in the world. Limited money. Limited time. Limited energy. Everything seems limited.
But, in the Gospel, Paul says there is something unlimited – the "boundless riches of Christ."
Christ has boundless love for you even in your rebellion
Christ has boundless mercy for you even when you fail
Christ has boundless forgiveness for you no matter how much you sin
Christ has boundless advocacy no matter how deep your past regrets
Christ has boundless blessings prepared for you
Christ has boundless patience for you in your stubbornness
Christ has boundless comfort for you in your grief
Christ has boundless hope for you in your discouragement
Christ has boundless wisdom for the confused
Christ has boundless joy for the heavy of heart
Christ has boundless power for the weak
Christ has boundless healing for the sick
Christ has boundless life for all
Revel in Charles Spurgeon's eloquent words: "My Master has such riches that you cannot count them; you cannot guess them, much less can you convey their fullness in words. They are unsearchable! You may look, and search, and weigh, but Christ is a greater Christ than you think Him to be when your thoughts are at their greatest."
And that's the Gospel!
---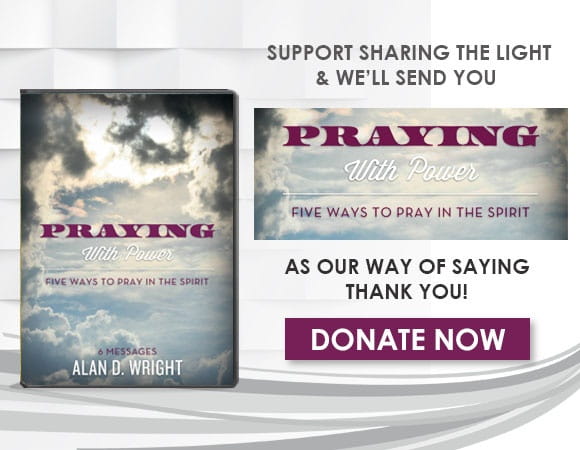 For more information please visit SharingtheLight.org.