Weird Faith 

by Berni Dymet 
Deut. 8:2 Remember the long way that the Lord your God has led you these forty years in the wilderness, in order to humble you, testing you to know what was in your heart, whether or not you would keep his commandments.
I was listening recently to a man - Tim - telling his life story. He had a heart to follow after God, set up a business to do just that…but God seemed to lead him into dark places. Lonely places. Places of real hardship. Right down to food parcels left on the front porch.  
This went on for several years. Why? Did God know what He was doing? Did He even care? 
Tim had a heart to follow God! 
But as his story unfolded, as I heard how those seemingly bad things had turned out for good, a mighty good, as I saw the humble, passionate, optimistic heart beating inside Tim - you could see just how the mighty hand of God had been on His life. 
God's thoughts aren't always our thoughts. His ways aren't always our ways. It hits you between the eyes.  Faith isn't arrogant, presumptive, self serving.
Faith is what carries you through the long dark night. Real faith - it's kind of humble and bold.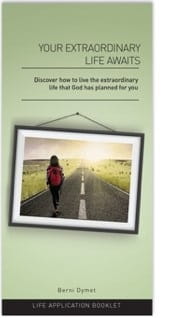 Your Free E-booklet - Your Extraordinary Life Awaits
All too often, we get to thinking that the boring and the mundane is all there is. But nothing could be further from the truth, because God has an extraordinary life ready and waiting for you. And to help you lay hold of that life, request your FREE copy of Berni Dymet's latest booklet "
Your Extraordinary Life Awaits
". Available for a limited time only.