No More Prophets
by Berni Dymet
Rom. 12:4-6 For as in one body we have many members, and not all the members have the same function, so we, who are many, are one body in Christ, and individually we are members one of another. We have gifts that differ according to the grace given to us: prophecy, in proportion to faith.
I've heard people say that God doesn't speak through prophets anymore these days. That happened in the past. Not today. Hmm.

A few months after I became a Christian, I felt God calling me to speak His Word into people's lives. Just… like I'm doing right now.
Man I was raring to go.

But I'd only been a Christian for like five minutes. And one day during a worship time, a man called Mark Brett gave me a nudge and he said to me: "Berni, look I don't know what it means, but I just feel God wants me to tell you He's not in any hurry."
Just as well - because it was another eight years, before God had done all He needed to do in me, to prepare me for what I'm doing now. 

Did Mark look like a Prophet - tuis sayeth the Lord!? Not at all, but if he hadn't given me prophecy when he did, I simply wouldn't be here with you now.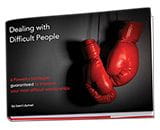 Get a Free eBook from Berni Dymet, Dealing with Difficult People. This timely and relevant eBook contains 6 powerful principles guaranteed to improve your most difficult relationships. And you can download it FREE, right now.