Loving People
by Berni Dymet 
Rom. 12:9-10 Let love be genuine; hate what is evil, hold fast to what is good; love one another with mutual affection; outdo one another in showing honor.
"Love" is an easy thing to say, but it can be much harder to do. We all want to be loved, but mostly; we're a bit lazy when it comes to living love.
Living love? What does that look like?
Let's say it's cold and you have a nice warm coat. And you meet someone on the street who - well - they clearly can't afford a coat. And - and so you give them yours.
Or - ah - someone you know, they're struggling to make their next car payment. And instead of saying - well, I'll pray for you friend - no, this time, you write the check to meet the payment.
Or there's this guy - who by the way has never been that very nice to you, you never really liked them - he's completely alone. So you invite him home for dinner.
Or…HANG ON A MINUTE. THAT'S ALL A BIT OVER THE TOP ISN'T IT? Give away the coat. Pay the car loan.  Invite That person over for dinner?
I mean what a load of rubbish. Who came up with that?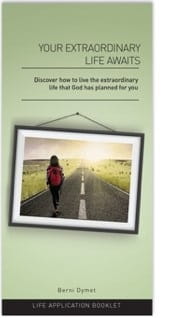 Your Extraordinary Life Awaits
All too often, we get to thinking that the boring and the mundane is all there is. But nothing could be further from the truth, because God has an extraordinary life ready and waiting for you. And to help you lay hold of that life, request your FREE copy of Berni Dymet's latest booklet "
Your Extraordinary Life Awaits
". Available for a limited time only.