He's Looking for You

by Berni Dymet

Luke 19:10 For the Son of Man came to seek out and to save the lost.

Jesus hung around with some pretty unsavory characters - and didn't the pious, self-righteous religious leaders give Him a hard time over it?

He stopped by the house of Zacchaeus in Jericho. A tax collector despised by the Jews. And all the religious nuts tut-tutted and criticized Jesus. So He said - Look, I've come to seek out the lost and to save them.
Now that really hit me. Because looking back on it, I know that Jesus saved me. I didn't think I needed saving back then, but with this amazing new life He's given me, I can see that now.
But I'm not sure I truly realized that He came to seek me out. But when I look at the way He found me, I realize … that's exactly what He did. He came to seek me out and to save me.
Friend - He's still in that business; He's still doing that today. In fact maybe, just maybe - that's what He's doing with you, right now.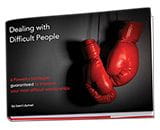 Get a Free eBook from Berni Dymet, Dealing with Difficult People. This timely and relevant eBook contains 6 powerful principles guaranteed to improve your most difficult relationships. And you can download it FREE, right now.