Charity Begins at Home

by Berni Dymet
1 John 3:17-18 How does God's love abide in anyone who has the world's goods and sees a brother or sister in need and yet refuses help? Little children, let us love, not in word or speech, but in truth and action.
I remember a few years back preaching at my church. Had an alter call at the end - a man came up for prayer. He couldn't make his car payment and they were going to repossess his car.
So I prayed for him - but something ... Great, pray for him and send him on his way. The amount of money he needed was so small. Back then I was working in the IT industry - I had plenty to spare. 
So I called him back and wrote him a check. Now - I don't normally talk about these things and the last thing I want you to think is that I'm some great guy. This giving didn't flow naturally - it took a real work of God to convict me.
Thing is - what I learned later is that not only was he blessed; it was such an incredible blessing for me. That's what blew me away. I'd written a check, he was blessed with a car payment, but God blessed me so much. I learned a powerful lesson that day. It's more blessed to give than to receive.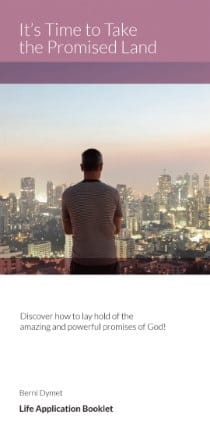 YOUR FREE BOOKLET – IT'S TIME TO TAKE THE PROMISED LAND
So many things in this world promise so much … and yet, so often, they fail to deliver. God's promises, on the other hand, never fail. Well … we know that in theory and yet, too many of those who believe in Jesus, somehow don't quite seem to manage to lay hold of God's promises in practice. How exactly do you live in the promises of God? Well, that's what our latest Life Application Booklet is all about: It's Time to Take the Promised Land.