Update Required
To play the media you will need to either update your browser to a recent version or update your
Flash plugin
.
For millennia, average Christians as well as learned theologians have strained more than one brain cell trying to understand the incomprehensible mystery surrounding the conception and birth of our Savior. We'll not lose ourselves in the unsolvable riddle that is the conception of God the Son. Rather, we'll lose ourselves in the wonder that is God the Holy Spirit's most significant mission.
Featured Resources from Insight for Living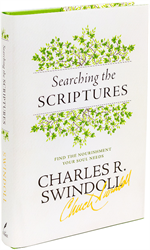 Searching the Scriptures: Find the Nourishment Your Soul Needs
You are what you eat! (And we're not talking food.)
When Jesus quoted Deuteronomy 8:3—"People do not live by bread alone; rather, we live by every word that comes from the mouth of the LORD"—He urged us that our spiritual diet is as vital as our physical one. So, how do we eat right—spiritually?
Respected Bible teacher Chuck Swindoll is serving up his recipe to your spiritual health in his book, Searching the Scriptures: Find the Nourishment Your Soul Needs.
In this unique guide to biblical nutrition, Chuck will:
Show you how to dig deep into Scripture and uncover profound truths yourself
Outline the principles of Bible study that will help you understand God's Word, apply it, and share it with others
Explain how you can prepare your own spiritual meals from God's Word using the same techniques he has cultivated throughout his ministry
Finally, you can feed yourself the nourishment your soul needs.
Learn More