Update Required
To play the media you will need to either update your browser to a recent version or update your
Flash plugin
.
If we believe the revisionist historians, our nation did not have a Christian foundation nor were our founders godly men. The agenda of the revisionist historians, it would seem, is to rip out the heart of the nation and set us more and more on the road to secularism and separation from God. If we believe all the revisionist historians have to say, we would have to believe that our founding fathers for the most part were all Deists and that Christianity to them was of little importance. George Washington was a Deist not so honorable a man and certainly not a Christian if modern revisionists are to be believed. Thomas Jefferson was not a man of great integrity nor a man of high morals if we are to believe all that modern historians write. Even the Pilgrims were not that honorable a people and even stole from the Indians if one recent author is to be believed. Many modern historians do our founding fathers a great disservice in what they write. School children know little of what happened in the founding of our nation. In an ever increasing sense the glory is leaving our land. The fear of God has vacated the land and the glory is departing. Iain Murray wrote in his book The Old Evangelicalism, "...the fact remains that there has been an element present when the gospel has made its swiftest advances in the world that is notably uncommon today, namely, the fear of God." (p. 3) It is the fear of God that brings glory to a land. Today, we need a nation of people who fear God. When that happens the glory will return to our land.
Featured Resources from Watchman Radio Hour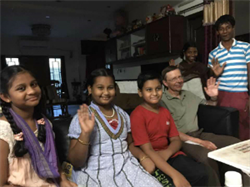 Help the Children
As we go to proclaim the gospel in different places, we come into contact with needy children. We presently have opportunities to help children in Honduras, Kenya, India, and Nepal. Would you prayerfully consider giving to our Children's Fund and partner with us in helping children in places like India where this picture was taken. Click on the button below to see how you can help.
Donate