Update Required
To play the media you will need to either update your browser to a recent version or update your
Flash plugin
.
God's moral law hovers over the nation. We have been weighed in the balances and found wanting. Our sins cry out to heaven and God is displeased with us. Our wickedness increases and we don't even realize the danger we are in. The nation stands on the brink of judgement and we go on as if all is okay. Our sins will find us out if we do not repent. Even now God's warning judgements are falling. Will we ever awake from our slumber before it is too late? Jeremiah preached to the people of his day and warned them with a message from God. Today, we need to listen to that same message and hear the voice of God to our land. Only a great revival will save the nation from utter destruction and judgement. We have departed from the ancient paths. We have deserted the way of our forefathers and sought our own way. In doing so, we will reap the wages of our sins lest we soon repent as a people.
Featured Resources from Watchman Radio Hour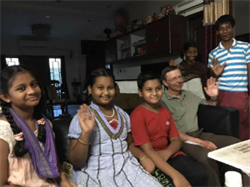 Help the Children
As we go to proclaim the gospel in different places, we come into contact with needy children. We presently have opportunities to help children in Honduras, Kenya, India, and Nepal. Would you prayerfully consider giving to our Children's Fund and partner with us in helping children in places like India where this picture was taken. Click on the button below to see how you can help.
Donate