Update Required
To play the media you will need to either update your browser to a recent version or update your
Flash plugin
.
When the Israelites first saw the walls of Jericho, they wondered how they could possibly conquer such a well-protected city. Yet, God promised He would deliver it into their hands. Today on Pathway to Victory, Dr. Robert Jeffress uses the story of Jericho to show that nothing is impossible for God.
Featured Resources From Pathway to Victory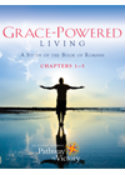 Grace-Powered Living | A Study of Romans
Paul's letter to the church at Rome — known to us today as the book of Romans — is the most important of the 13 letters he penned. A good understanding of this important book from the New Testament can help all of establish a firmer foundation for our Christian faith. That's why Pathway to Victory is featuring Grace-Powered Living: A Study of Romans this month on TV and Radio.
Together, we will explore chapters 1-5 of Romans and tackle a truth we all fear: There is none righteous, not even one?" Instead of accepting the provision of grace that God provides us, we instead strive to make ourselves righteous and right in God's eyes through our works. You know, we can point to all of the good works that a person does and all the charitable organizations a person contributes to, and all the things a person does for the poor and the sick – it doesn't make any difference to God. Apart from Christ there is not one righteous good person on the Earth. But God in His mercy has made a provision for righteousness, a right-standing before him. That's why we need to understand the true purpose and meaning of grace.
Order