July 14
"Bring the whole tithe into the storehouse, so that there may be food in My house, and test Me now in this," says the LORD of hosts, "if I will not open for you the windows of heaven and pour out for you a blessing until it overflows. Then I will rebuke the devourer for you, so that it will not destroy the fruits of the ground; nor will your vine in the field cast its grapes," says the LORD of hosts. All the nations will call you blessed, for you shall be a delightful land," says the LORD of hosts. - Malachi 3:10-12
Blessed nations are giving nations. The tithe is the first tenth of one's income. The "firstfruits" principle is all through the Bible, from Abel and his gift of the first and best of his harvest, to God's command to the Promised Land-bound Hebrews to set apart their firstborn son, to the Proverbs admonition to honor the Lord with the firstfruits. The "storehouse" in Malachi's day was the Temple. Now, it is the local church. When God's people honor Him with firstfruits giving, there is a radiating effect outward to society itself, resulting in generosity and blessing.
Click here to sign up for your free Winning Walk newsletter!
---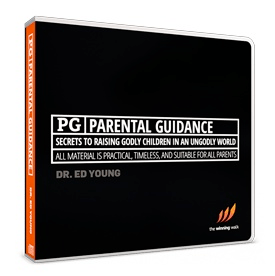 Transform how you think about parenting!
Most anyone can become a parent, but successful parenting eludes so many. Even many Christian families find themselves spiraling out of control as their children fall victim to drug and alcohol abuse, sexual promiscuity, and even suicide.
 
That's why Dr. Ed Young put together his easy-to-follow 3-message CD series, Parental Guidance. In it, Dr. Young reveals proven truth that every mother, father, and grandparent can immediately embrace in order to build and strengthen their family.
 
Parental Guidance is our gift to say thank you for your donation below to help share proven truth through The Winning Walk's broadcast ministry. We pray it transforms the way you think about parenting!